Het verhaal van mijn opa Gerardus Petrus Janssen zoals ik het totnutoe ken.
Niemand heeft me dit verhaal verteld. Beetje bij beetje vond ik de feiten. Niet alle! Veel is door de tijd verdoezeld…
Mijn opa was 47 toen hij sneuvelde. Een wit kruis op een nederlands militair ereveld in Surabaya herinnert daar aan.
Wie zijn ouders waren weet ik niet. Hij was opgegroeid in het weeshuis Vincentius in Buitenzorg. 
Omdat hij geboren was in de toenmalige garnizoenstad Salatiga neem ik aan dat zijn vader een nederlandse militair was die na zijn diensttijd terugkeerde naar nederland.
Op het witte kruis staat mijn opa's rang bij het toenmalige Koninklijk Nederlands Indisch Leger. Sergeant. Zou zijn nederlandse vader ook die rang hebben gehad? We zullen het nooit weten.
Volgens de Japanse administratie was mijn opa aan dysentrie bezweken in Maomere Flores, maar andere bronnen melden dat de lijsten van Maomere vaak werden gebruikt om de Birmalijsten niet al te buitensporig te laten lijken…wie zal het weten?
Of dat Koninklijke Leger of de Keizerlijke bezetter zich na zijn dood ooit om zijn weduwe, mijn oma en hun minderjarige kinderen hebben bekommerd heb ik nergens kunnen terugvinden.
Toen uiteindelijk al haar kinderen uit Indonesië werden verbannen bleef mijn oma eenzaam en berooid op Java achter en is in 1960 aan dementie overleden.
Mijn vader was 20 toen mijn opa sneuvelde. Hij was amper 2 jaar daarvoor als dienstplichtig soldaat opgeroepen en uiteindelijk in een krijgsgevangenen kamp in Japan terecht gekomen maar zou tot 1949 moeten wachten voor hij zich met zijn moeder op Java mocht herenigen.
Zijn militaire dienst en bevrijding zijn daarom weer een ander verhaal. Opgemaakt uit flarden van gesprekken die niet voor mijn oren waren bedoeld.. Nauwelijks te vinden in de overvloed aan documenten die nu door internet toch nog binnen bereik lijken te komen..Daarom vertel ik het nog maar niet.
Mijn vader is op 65 jarige leeftijd aan longkanker overleden. Of de 12 maanden quarantaine die hij onmiddellijk na aankomst in NL moest uitzitten, vanwege zijn gevangenschap in Japan toen daar de atoombommen vielen, daarmee in verband staan of niet kan ik slechts raden. Wel kreeg hij uiteindelijk erkenning van de WUV, wet uitkering vervolgingslachtoffers.
Hun rechtmatige beloning of weduwen/wezenpensioen voor hun militaire dienst zijn als gevolg van een juridisch politiek steekspel omtrent de na-oorlogse wederopbouw en alle door het vaderland ontvangen herstelbetalingen, nooit betaald.
(De nederlandse overheid schijnt bij de Verenigde Naties na de wereldwijde de-kolonisaties een zekere reputatie te hebben opgebouwd wat betreft het eenzijdig interpreteren van gemaakte afspraken in Azië.)
PS: Dit stuk heb ik gisteren 27 september 2017 in de groep Indisch Kwestie op FB gedeeld. Daarna kreeg ik meer informatie van Indisch4ever's 'Boeroeng Biroe'. En zo ontving ik de namen van mijn grootouders opeens, zie de kaarten. Zie hier zijn reactie.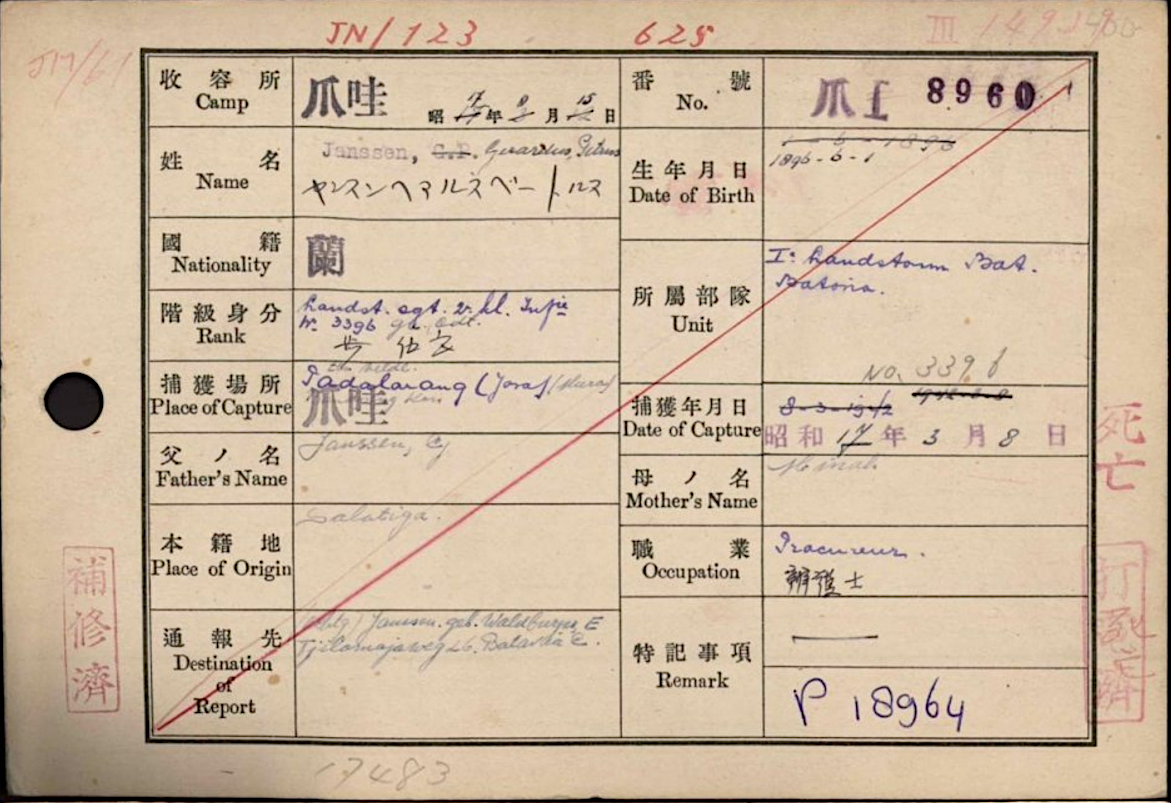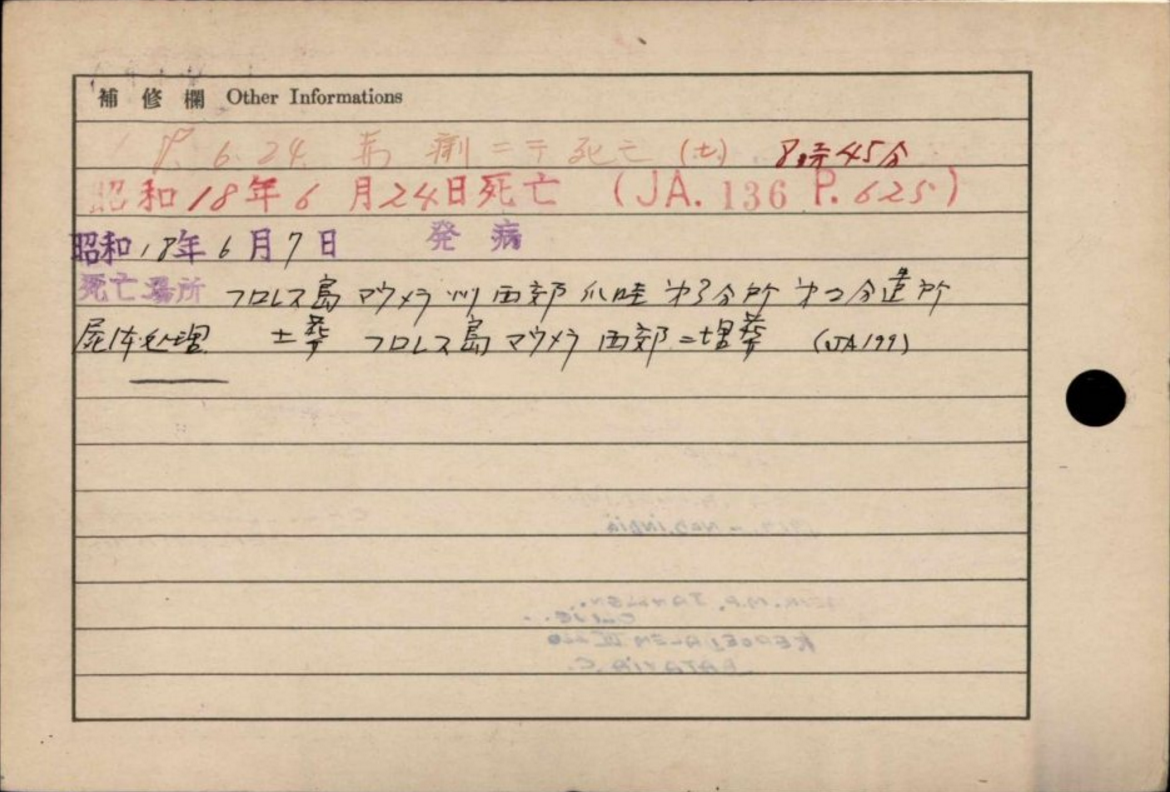 Klik hier voor de Japanse Interneringskaart van mijn opa.
#indischekwestie